Okay, so is it just me or did January craaawl its way out like it always does, every-freakin-year? (Do you notice how I am so obviously Team Thank God January's Over?)
Now that we can scratch off the first month of 2019, let's welcome February with enthusiastic arms! This year's Hearts Month will be particularly festive on here because I've prepared blog posts all about relationships — with yourself and with others.
But you'll have lots of time to see that. Let's dive in to this month's wrap up.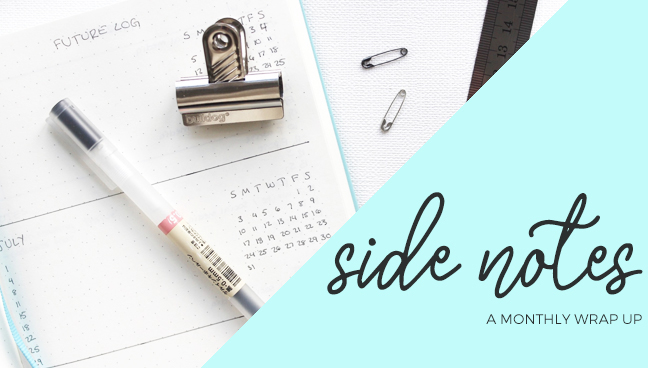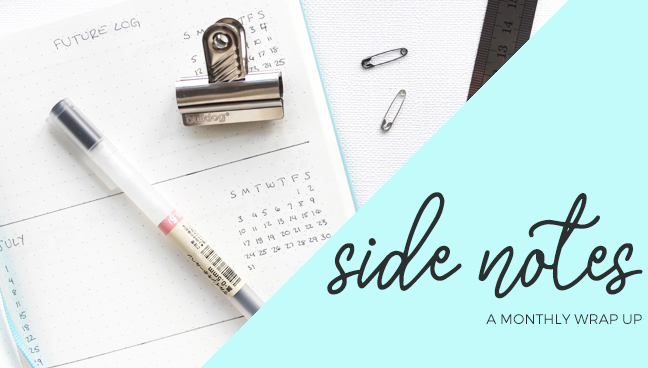 Side Notes is a monthly wrap up where I share the interesting, and incredibly inspiring things I found during the month that I couldn't fit in any post. Expect awesome recs, awesome books and awesome bloggers.
Also expect: fangirling (lots of it) and a glimpse into my life — the happy, the chaos and all.

In the Blogosphere
Nikita discusses the pros and cons of having an unconventional or nontraditional job, and it's a must-read for my fellow 20-somethings who will be starting their career.
We know January is the month when new habits are decidedly taken upon and immediately thrown off the window. If you're like me, then this post by Suktara on how to form new habits is for you!
Alex has an incredibly insightful piece on how improving your well-being may just be the key to happiness.
Don't have much time for yourself? (Yeah me too, sometimes) Emily suggests setting your alarm 10 minutes earlier.
For my fellow bloggers out there, the amazing Lav wrote this incredibly motivating piece filled with reminders for when the blog stats are low.
Rachel shared a very personal story about post natal depression and if you're a mom going through it also, I highly suggest reading Rachel's post! Below is my fave quote from the post:
I hadn't realised how low I was until I started feeling better.
I just found Oxria's blog today and there is zero doubt that I. AM. IN. LOOOVE!!! Her illustrations are gorgeous and she has this post on notebooks that help her keep organized and my semi-organized potato self is drooling in envy!!
The Awesome Side of the Internet
The Internet can be a jerk sometimes, let's all be real here. But it is also filled with authentic and incredibly inspiring human (and non-human) stories. Also: I take zero responsibility for any tears you might shed opening one of these links. Click at your own risk, y'all.
I have a soft spot for grandmothers so this tweet about a girl and her gramma with Alzheimer's is just oh-so precious. Ma heart!
Y'all need this reminder from Artidote today:
To protect your energy:
It's okay to cancel a commitment.
To not answer that call.
It's okay to change your mind.
It's okay to want to be alone.
It's okay to take a day off.
It's okay to do nothing.
It's okay to speak up.
It's okay to let go.
—Anon

art: https://t.co/jA9wFMpvAs pic.twitter.com/hb2g9RcwnM

— the artidote (@TheArtidote) January 11, 2019
Anthony Exeter (God bless your soul) has these six rules for life, as shared by his now-widowed wife Kelly Exeter. (My heart BROKE, you guys.)
DOGGO-LOVERS, brace yourself for this one. This story of a mom and daughter seeing a stray dog on the sidewalk is wholesome and might possibly make you cry. Probably.
For my fellow CAT-LOVERS, I got one for you too. Don't worry, it isn't exactly a tear-jerker. Tear-provoking is very rarely a cat's brand, as you may know. In this one, my fave cat in the Internet, Maru, claimed another cat's box quite smoothly. Just like James Bond, this gorgeous smooth-moving cat.
There is a Youtube channel where someone cooks mini-food using mini-utensils and mini-kitchen equipments and I am enthralled. Here's one where they cooked mini Japanese curry and rice.
So I saw this one on Facebook but it was a screenshot from Tumblr. And look, I have this thing with screenshotted (? omg grammar) posts. Like, it's okay if I was just passing by and I read it. But if I'm going to promote the stuff, you can be sure I'll find the OG source and lead you to them because they deserve the traffic more than those sc-ers/ ctto insensitive-only-wants-clout potatos.
(Yes, I am passionately heated regarding this stuff — and I'm already at that point in my life where I feel too old to protest on every-single-thing I see on Twitter. It's like art theft and copy-pasted blog posts for me.)
Anyhoozles! Here it is. Violetwolfraven from Tumblr wondered if maybe supernatural creatures once existed here on Earth but, over the years, mixed in with humans and you can see them in traits and personalities that modern people now have. Like maybe that ballet dancer who seems to hover mid-air for a few seconds might have the blood of fairies. I promise you, their imagination is wild and amazing and it made my fantasy-loving brain drool. You should read the entire thread because there are people asking the mythic counterparts of writers and artists. It's amazing, really.
(Can't believe I wrote more than 200 words for one link but there you go.)

Bluprint (formerly Craftsy)
Bluprint, formerly known as Craftsy, is an amazing website filled to the brim with craft-related videos and classes. It was through here that I watched a class on watercolor and this class by Kateri Ewing helped me improve my watercoloring. There are also other classes on the site, like for baking, knitting and jewelry-making!!!
Pocket App
I no longer have the Pocket app on either my phone or tablet but I'm still subscribed to it because I signed up, and Pocket Hits curate the most insightful, thought-provoking articles on the Internet every week.
Like, I rarely watch the news now (especially since it's the start of election season over here and ugh, so not liking all networks' coverage right now.) so I get my dose of what's happening in the world through my journalist sister and via email.
That said, I highly recommend signing up for Pocket. They have the most intriguing long-form articles ranging from various sources around the Web.
(Side note: If you want to read about that article on insect collapse on a Puerto Rican rainforest — which is a must-read, by the way — you can read it here.

Little Victories – Kickass Stuff that Happened This Month
I made full-color illustrations! Three of them! In a month! (Yayyy)
I spent one month not worrying about school! Gosh, it feels GOOD.
Updated my resume and got references! (I have a blog post scheduled for this exact story. Stay tuned!)
Little Detours – What Kicked My Ass This Month
(because we're not perfect, and it's good to share your awful moments)
I got invitation for job interviews that I had to reject because I wasn't in Cebu. That sucked.
My sleep are getting irregular and I have no idea why. (Is it the lack of a structured routine? Idk.)
Little Milestones – Things I Want to Achieve or Do Next Month
(because according to Gretchen Rubin's Four Tendencies, I am an Obliger and I need outside accountability to reach personal goals)
A Mini-Review on This Month's Goals
Finish three posts for the month ✔ and send out two guest post pitches ✘ (Sigh. Will this even happen, at this point?)
Read and comment on 14 blog posts every week ??? (I have no idea if it reached 14???)
Update my resume (hnggg) ✔
For Next Month
Make no bake cheesecake.
Get interviewed by 5 companies.
Finish writing and scheduling March's posts.
Last Month's Self-Improvement Challenge
Try out one thing you haven't tried before. The sushi didn't happen, sadly. Buuut I did try out strawberry milk tea for the first time so — is that good enough? For now, yes.
Next Month's Self-Improvement Challenge
Eat fruit once a day. I need it. It doesn't hurt to eat fruits more often, yes?
I WANT TO HEAR FROM YOU!
How was your January? Did it crawl for you too? What are your fave educational apps at the moment? I wanna know it all!!
xx Kate
Photo from Ivory Mix