You may have asked, What the heck happened to Kate?? (Or probably not.)
To which I answer, Kate was very confused blog-wise this month. But I'll talk more of that in another post. (Maybe. Possibly.) For now, let's start this wrap-up, yes? Yes.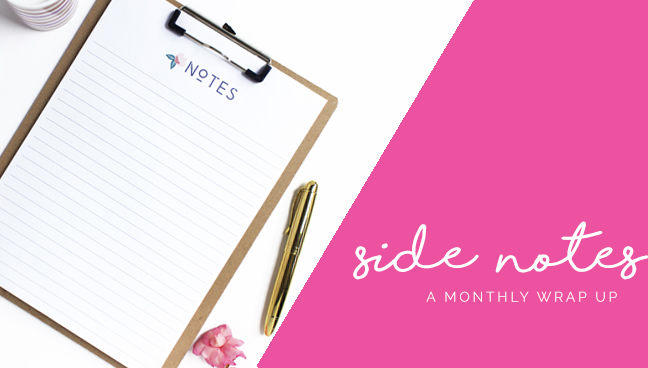 Side Notes is a monthly wrap up where I share the interesting, and incredibly inspiring things I found during the month that I couldn't fit in any post. Expect awesome recs, awesome books and awesome bloggers.
Also expect: fangirling (lots of it) and a glimpse into my life — the happy, the chaos and all.
I'm sure a lot of awesome posts were published all over the blogosphere this month but, sadly, I just didn't have any on my Keep Notes.
I did share some posts I loved over on Twitter earlier this month so go check out my Twitter too! I share posts I come across at the moment on there, and sometimes like today, completely forget to add them on my Keep Notes.
The Awesome Side of the Internet
The Internet can be a jerk sometimes, let's all be real here. But it is also filled with authentic and incredibly inspiring human (and non-human) stories.
Friend, if you're going to watch one thing from all of these, let it be this birdie rock-and-rolling to Elvis and his bird fren not wanting to be part of it.
The only space mascot we need: Earthy.
I've never been into True Crime, but this article questioning the gender of the famous, most mysterious serial killer might have just converted me. I'm gonna listen to My Favorite Murder on the bus this month, y'all.
This teacher lost her battle with cancer and continued to teach on Youtube. Cue heart swelling. Cue mad respect.
Fonda Lee wrote a great Twitter thread on Writer's Block and iT SPOKE TO ME.
A postman who takes pictures with the neighbors' dogs is the BEST postman.
Patriot Act with Hasan Minhaj
I feel like, ever since I discovered The Tonight Show with Jimmy Fallon on Youtube, I was on the journey of finding better and better late night shows.
This topped it off easy. Even LSSC.
Hasan is clever but very relatable because 1) he's a millennial and 2) he's an Indian-American. And I'm not gonna say I understood all of his Indian jokes but I live for those about practicality because Filipinos are like that as well. It's just an overall entertaining show and you will always leave with a new thing learned. Aaand! It's on Netflix so you can watch the entire episodes anytime. But they also have a Youtube channel with Youtube-exclusive content.
Francina Simone
I only subscribe to one Booktuber and that's Francina. I love her nuanced discussions on all things bookish and while we don't agree on everything, I respect her stance and her "too each their own" approach which I'm all for too! 🙂

Little Victories – Kickass Stuff that Happened This Month
I finally got my first ever salary!!! *whispers* Is this what it means to be an Office Lady?
I got to treat my fam on my birthday! *whispers* IS THIS WHAT IT MEANS TO BE AN ADULTING OFFICE LADY???
My little art instagram is growinggg *cries in confettis*
Little Detours – What Kicked My Ass This Month
(because we're not perfect, and it's good to share your awful moments)
I'm quite sad that I haven't been around in the blogging community this month. And whenever, I got this weekly blog stats report, it's like a slap to the face of, "Hey, here's another week you didn't do squat on your blog!" So you know what I did? I disabled that weekly stats report. Which was definitely the right decision because I immediately felt lighter afterwards.
Lots of stuff brewing on my mind this month. But, seriously, when is that not happening? lol
I'm trying to introduce myself to a lot more fiber-rich food just because I've been having stomachaches recently and I'm… scared.
Little Milestones – Things I Want to Achieve or Do Next Month
(because according to Gretchen Rubin's Four Tendencies, I am an Obliger and I need outside accountability to reach personal goals)
A MINI-REVIEW ON THIS MONTH'S GOALS
Create a routine around work ✔ | This was like, The First Thing I did this month so yay!!!
Set aside 5,000 php to savings (That's about $100, give or take) ✔ | Holy cow, I completely forgot about this goal but I'm so glad I got to save more than that!
Write and schedule posts ✘ | Again, haha.
GOALS FOR NEXT MONTH
Go ice-skating! (It's searing hot over here which is why this is perfect, and it's just nice to get out of my comfort zone, once in a while!)
Have at least three posts up on the blog. (Don't worry, I have first drafts finished but let's see if they'll get past second draft.)
Do a full-color illustration! (The sad thing with this month's art was all of them were simple portraits. Which isn't surprising. I don't have a lot of time to make full-color pieces because of work. But with Holy Week coming up, I'm hoping I could get out at least one full-color piece next month.)
Last Month's Self-Improvement Challenge
Finish one book. Ohmigosh I achieved thisss! *cries noisily* The book I finished reading was When Dimple Met Rishi, which was… okay? I wouldn't say it was earth-shattering and broke my heart. But there was this one particular scene with Dimple and her mom that made me cry. But yeah, I'd give it 3 out 5 cookies.
Next Month's Self-Improvement Challenge
Journal for the entire April. I'm probably going to use one of my old sketchbook journals for this. But yeah, let's do this!
I WANT TO HEAR FROM YOU!
How was your February? Was it awesome or did it suck so bad? Share to me everything!
xx Kate
Photo from Ivory Mix