Have you ever had that feeling when the Devil's Snare is holding you tightly and you're just… stuck? Except you're not really physically stuck. More like mentally and emotionally stuck. In life.
I mean. We've all been 11-year-old Ron at some point, amirite? (Source)
Feeling stuck in life sucks. I end up panicking. Always. And as much as a level-headed Hermione in my mind tells me to just relax, Kate, just relax, my first instinct is to be Ron: become sarcastic while panicking.
I mean, just off the top of my head, this 'I'm stuck' feeling:
Makes you feel like you're not doing anything
And because you're not doing anything, you feel useless
And this makes you feel worthless
Which lowers your self-esteem
And you end up becoming a mashed/couch potato binge-watching awful reality shows on cable.
I've been a mashed/couch potato binge-watcher plenty of times and I honestly don't want anyone to end up in the same position as I have, so I'm sharing to you what I do when I feel stuck in life. Hope this helps! 🙂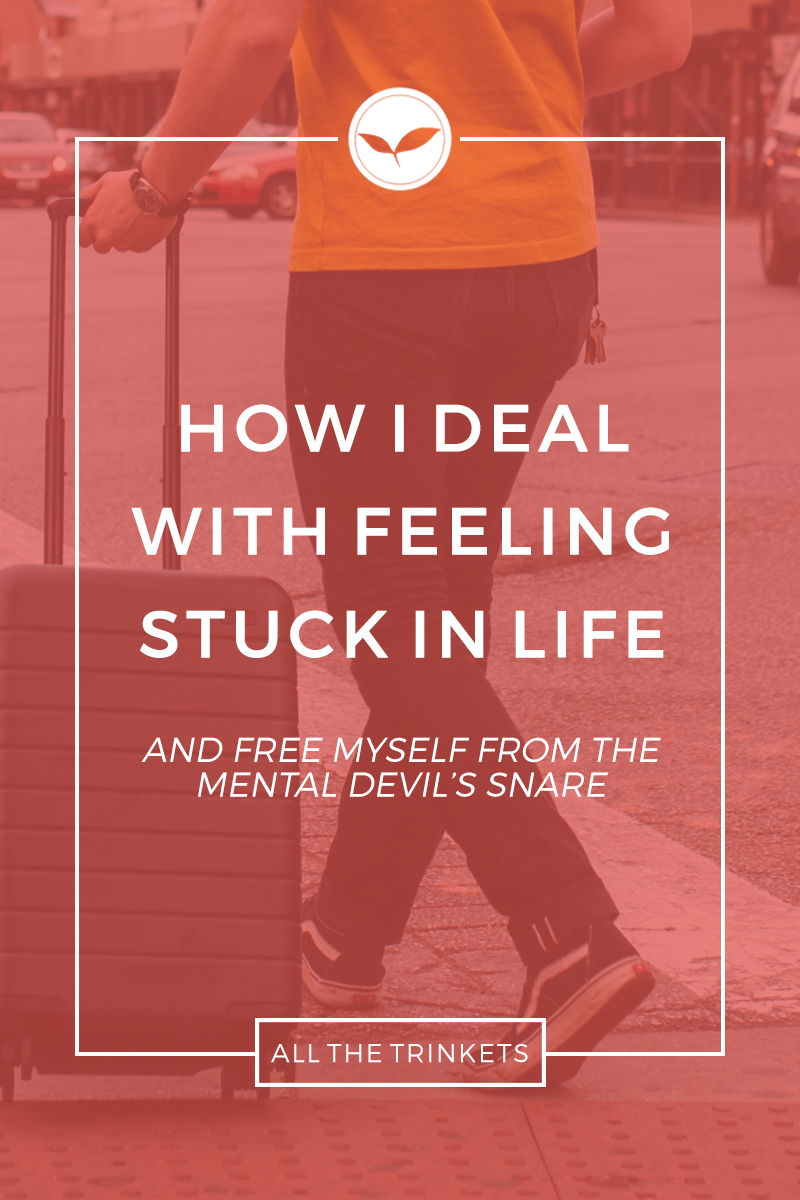 Purge / De-clutter
Has the physical chaos around you added to all that tangled mess already inside your head and it's messing you up?
Friend, you're not alone.
I'm not a very organized person. I have piles of scratch papers and empty watercolor tubes and dried up pens all over my room that I don't throw out until it's been like months. So when my mind becomes a hot mess and gets too overwhelming, the mess all around me is like a fuel to the already burning fire.
This is usually the time when I grab a broom and a rag and have an impromptu cleaning spree.
I'm telling you: there is something absolutely therapeutic about de-cluttering your space and purging the mess.
And I don't call it a purge for show. If there's an article of clothing I haven't worn for like a year, I throw it out or donate it. If my desk or shelves are filled with papers from months ago, I throw them out. My sister had this paper bag filled with newspapers that she supposedly was going to add to her portfolio (she's a journalist) but it's been gathering dusts since last year. So when my brother needed paper for their classroom's recycled Christmas decor, I gave the paper bag to him.
Look through every nook and cranny of your work space and your bedroom. If you're a semi-organized fellow like moi, you're bound to find a mess or four. So here are some quick de-cluttering you can start doing now:
Dust off those spider webs in the corner.
Organize your closet. (I mean, do you really really need that knitted hat with pompoms you've had since third grade? Come on, Janice.)
Unsubscribe to newsletters that you don't read anymore.
Change your bed sheets and pillow cases. (I mean. That feeling of flopping onto a clean bed? 11/10 would do it every-freakin-day)
Organize your bookshelves. In rainbow colors or by authors, whatever suits your fancy.
Throw away those old earphones that don't work anymore.
Deal with The Chair™. (You know? That chair in your room where a pile of your dirty laundry sits? Tell me I'm not the only one with that chair.)
Be ruthless in your purging. When I purge I only follow one rule: if it doesn't do any good to you anymore, it doesn't need to occupy much space in your life. Throw them out. Let them go. Give them to other people who will make use of them. The act of cleaning and de-cluttering is a big help. And when you're done, you've got so much more room to do more things. #Win.
Move / Take Action
There are so many things I didn't get to do because I thought I wasn't ready. And, listen, this is a very unhealthy thought to have, okay? Don't be like me, kids.
Sometimes we get stuck because we have this mindset that we're not good enough for anything. That we aren't ready. That our skills isn't enough to do what we want to do. It's like you're stuck in a quicksand made of all the negative self-talk you've created.
But you know what? No one's ever ready for anything.
At this point, I've probably watched enough TED Talk videos and listened to enough motivational podcasts to know people rarely are completely ready when they start doing what they've wanted to do.
And you know what? There's absolutely nothing wrong with that 🙂
In fact, if you're not ready but you jumped in and started anyway, GO YOU! That's brave and that in itself is something to be proud of—because you faced your fear and said, "I'm doing this anyway."
Avoid Comparisonitis
Boy oh boy. This is probably a common problem among people in the Internet. Because, you know, social media.
We can all agree social media feeds on the little green monster living inside us, right? Seeing the fabulous achievements and gorgeous lifestyle your Facebook friends have, the glamorous travel-filled life of the people you follow on Instagram… All these make comparisonitis such an easy sickness to get. And comparisonitis can make you feel like you're not good enough to do something. Which can end up with you feeling stuck.
When that happens, I want you to remember this:
Social media is a highlights reel.
People usually only post the good things that happen in their lives. The things "worth sharing." (Except Twitter. Twitter is the John Bender of social media.)
This guy, I swear. (Source)
I remind myself this all the time. I forgot where I found it—I tried looking for it but my History tab and my memory are both jumbled mess—but I read somewhere that we all compare our real life to another person's highlights reel online. And that doesn't seem fair to yourself, isn't it?
What the post said was so accurate for me that I whipped out a blank sheet of paper and wrote a line from the blog post that really stuck to me. I have it on my desk beside my computer where I can see it everyday.
I think I paraphrased this to make it shorter and fit the paper. So if you know where this is, let me know in the comments so I can fully credit them! 🙂
Somehow, reading this quote every morning or when I'm working on my desk gives me comfort. Knowing and constantly reminding myself that other people go through bad times too and that they also rarely share all this to the world makes me more empathetic, I guess. 🙂
How do you deal with feeling like you're stuck in life? Share your wisdom in the comments below!
Twitter | Pinterest | Instagram | Bloglovin
PS: If you like this post, check out why it's okay not to have everything figured out and how to conquer creative block.
---
Friendly reminder that my blog birthday giveaway is still going on! You can win an art commission or a custom set of blog graphic elements including a blog header 😀
Interested? Click on the image below for more info.