Pre-S: This is an old post I've written a year ago. I reckon it's good to update it with a bit of new information I've recently learned regarding goal-setting so here ya go!
---
There are certainly people out there who can't – for the life of them – achieve the big goals they've set for themselves.
I know this because… well, I'm one of those people.
And yo, I've tried every-freakin-thing. I did New Year resolutions. I've read every goal-setting blog posts available in the personal development community. I did it all. And it's not like I can't follow through with the tasks I need to do. I totally could.
If it was given to me by someone else, or if I gave my word to do something to another person, I sure as heck can follow through with my promise. My problem lies with the goals and plans I've set for myself.
It wasn't until I learned about Gretchen Rubin's Four Tendencies that I realized there was nothing wrong with me. There are just people who, like me, find difficulty in meeting inner expectations.
This you?
Do you also have a hard time achieving the goals that you've set for yourself?
Do you set a big goal – you know, those goals that are ambitious and huuuge? – and eventually fall out of it?
Well, my friend, this post is for you.
HOW TO SET AND ACHIEVE THE BIG GOALS (when you're not a pro goal achiever)
There are essentially two types of goals. The big goals, which are ambitious and often takes a long time to achieve. And the small goals which are more achievable. Since the small goals are easier to accomplish, we'll pin that one for later and focus on the big goals.
Big goals seem farfetched. They're what you call top goals, your ultimate goal in life. And because they're huge, it makes sense that these goals take years of work to achieve. So they're quite difficult to attain.
This and other internal complications (like self-doubt and low self-confidence) would add to your big goals' difficulty. Which is why a lot of people don't follow through with their big goals. But that does not make it ultimately unreachable.
Big goals are totes achievable, my friend! It all comes down to how you set them.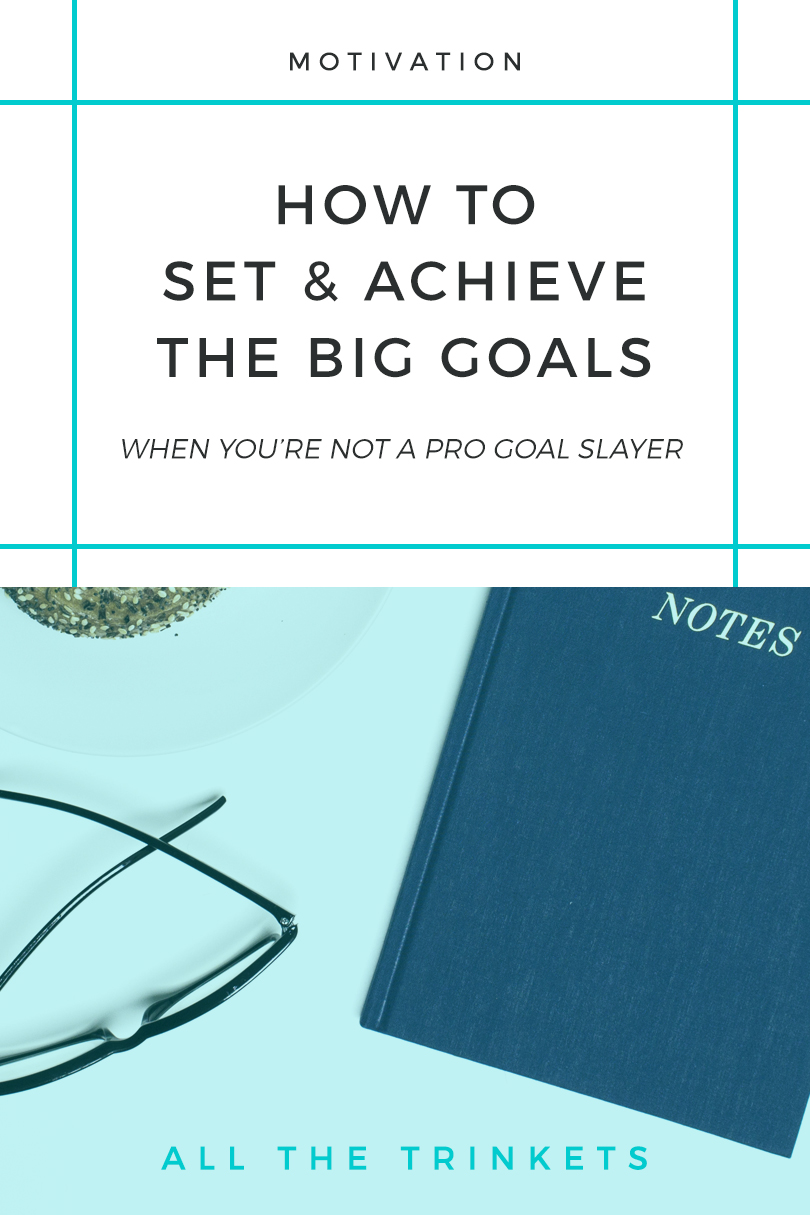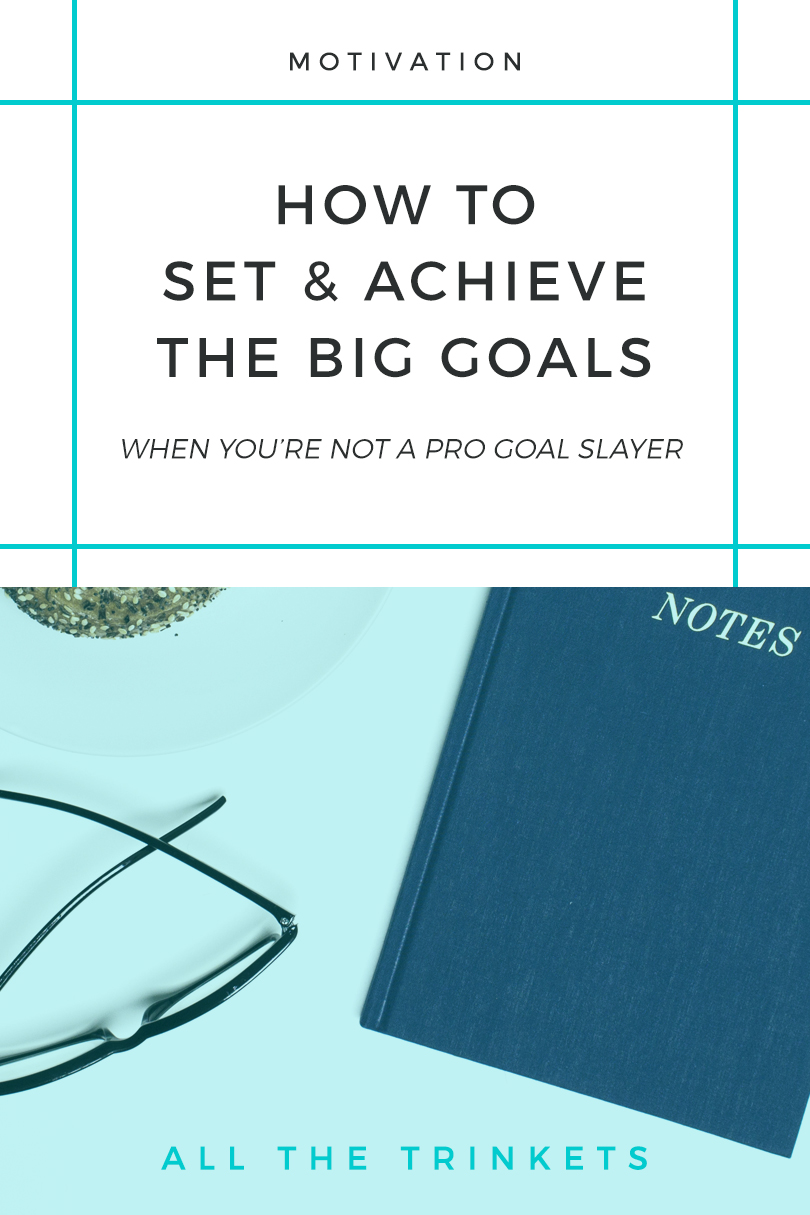 1) Know Your Why
Why are you setting this particular goal? Why is achieving this goal important to you? What are you trying to achieve? What will you get from achieving it?
Being able to answer these questions and knowing your why may seem all woo-woo at first. (Trust me, I thought so too.) But it'll help you all throughout your journey of achieving that Big Goal.
Here's what I've learned:
Goals are like cars. They're great. With their help, you'll get from Point A to Point B, easy. They carry you to where you need to go next. But they can't do it all on their own. In order for your car to help you, you need to fuel it. You need gas.
You need a motivation power.
A motivation power is what powers your goal, to turn on and work. Without a motivation power, you'll be stuck at Point A. With the wrong motivation power, you can't get anywhere far.
Like, if you want to reach 1000 subscribers on your blog, just so you can reach 1000 subscribers, the motivation power of that goal is really really short. That's because it's the wrong motivation power. And if you want to reach 1000 subscribers on your blog because that's what others are setting for theirs, that's not the right motivation power either.
You can't just set a goal for the sake of setting a goal. Or because that's what someone else wanted. There has to be a purpose to it. Your goal needs to be meaningful to you. You would need something that will drive you to take action.
2) Turn Your Big Goal into Small Achievable Ones
If you've been around on my blog for a while, you would know how much I LOVE setting big goals into small achievable ones.
See, your Big Goal is one ginormous triple-layer buttercream cake. It's delectable. It makes you salivate. But you can't just open your mouth and gobble it all up in one go. I mean, you could try… but boy, will your jaw have cramps afterwards.
Instead, cut them into small neat slices. You can just concentrate on that one slice that's on your plate and gradually work your way into every layer. Until you've eaten the entire cake.
See what I mean?
You can apply the same principle in goal-setting. Create milestones that you can focus one at a time. Angela Duckworth calls this a goal hierarchy. Your top goal, your Big Goal, can't stand up on its own. It needs to be supported by a middle-level and low-level goals. These are goals that, once achieved, would bring you closer to your top goal.
So if you've got a five-year goal, slice it up to yearly goals. And you can even go further and turn those yearly goals into monthly goals. And then weekly. And then daily! This allows you to focus on only what you can do today. And through working on your small daily goals, you're gradually working on your Big Goal one day at a time!
3) Don't Let Doubt Creep In
I'm sure you already knew this: Achieving the big goals will not be a walk in the park.
You will encounter obstacles along the way. And one of your biggest adversaries is self-doubt.
The thing is, doubt is inevitable with big goals exactly because they're not so easy to attain. All throughout your journey, doubt will pop out of nowhere. It's like one of those recurring antagonists that just don't die, you know?
So when you start thinking of worst-case scenarios, when the voices in your head are giving you all the reasons to stop, challenge it. List down all the reasons to forge ahead.
Related: How to Challenge Negative Self-Talk in Three Steps
Similarly, if you shared the huge goal you wish to achieve to someone and they have that "Is he/she for real?" disbelieving look, walk away.
Just walk away. They will only add up to the doubt you're already giving yourself.
And when I say walk away, you don't necessarily have to ban them from your life forever. Sometimes the people who doubt us are those closest to us, those who are important to us. Which makes their disbelief all the more hurtful.
It's sad but it's true for a lot of people.
So whenever they wear that uncertain expression, ignore it. When they speak their doubts, let it pass through one ear and out the other. Or insist you can do it! And if they still persist on what they think, leave it alone. Don't fight, especially if they're important to you; you don't want to lose them to a conflict of ideas. We all differ that way.
But you don't want to lose that goal, too. Instead, look for other people who will support you, understand you, and share your journey with them.
4) Write Your Goals Down
I'm telling you, there is power in writing things down.
When you write things down, it:
Creates permanence
Makes abstract stuff more real
Puts things (like my scattered Obliger brain) in order
If it isn't evident enough, I love writing. I like to journal, I love to free write (which you totally should try, by the way) and, every once in a while, I love to write poems too. And I'm not alone in this writing-love-fever.
There's a reason why bullet journaling, or any kind of journaling for that matter, is still super popular today amidst awesome apps like Evernote or Keep. This is because the physical feel of writing is already therapeutic in itself.
This isn't to say that putting your goals in notepad apps aren't good. I do that too! I pin both my weekly and monthly goals in my Keep and place a reminder for them everyday. This is just to reenforce to my Obliger brain that I need to act on the goals I've set for myself.
The important part here is that you have your goals written out. That way, your goals feel more tangible.
5) Enjoy the Journey
Achieving your goals won't be an easy journey. That much I can assure you.
But we have to remind ourselves sometimes that the process is just as important as the outcome.
There are many things that you will learn along the way. Maybe you'll find out that your little milestones have changed and you've found another path to reach your Big Goal. Maybe your Big Goal has reshaped and molded itself into something else. That's totally okay!
And when life gets you down, you know what you gonna do?
*DON'T STOP BELIEEEEVING HOLD ON TO THAT FEEEEELING*
Ahem. Okay. So that song actually holds some truth for goal-setting.
This is why having that purpose in setting your goal is important. I mentioned earlier that doubt creeps in any-freakin-time and I meant it. Don't stop what you're doing just because doubt arrived. Don't stop believing that you will reach it. Because you can.
You totes can. I believe in you.
I WANT TO HEAR FROM YOU!
Do you have any big goals planned out for next year? Share them in the comments!
Kate xx
LOVE THIS POST? DON'T FORGET TO PIN IT!