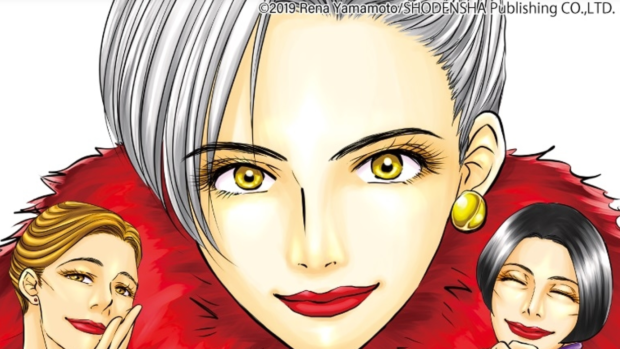 I'm going to be completely honest here. I've written the intro for this post twelve times over and I've never been satisfied with any of it. I have a lot of thoughts and feelings about this month – some good, some bad – and it feels hard to summarize everything here so let's just cut to the chase.
I just want to share all the great queer manga series that I read for the first time and enjoyed this month. Hopefully, dear reader, you will pick one (or three or all seven) of these titles up and enjoy them too.
Note: Status and links below are for the official English licenses, simply because most of anyone who stumbles upon this blog are from Anglophone spaces. If you'd like to support the creator and purchase the original Japanese works and don't know how to do that, feel free to comment down or contact me. I'm happy to guide you. 🙂
1. Sunrise Snack Bar by Rena Yamamoto
A salaryman gets the surprise of his life when he gets dragged into a "snack bar" and meets the bar Matadoll's diva, Ichiko.
This is an absolute delight! I need more people to read this and get as much love as the series deserves. It's been a while since it got updated so I hope Yamamoto-sensei is doing well. I love the natural flow of each chapter and enjoy being part of the nightly life inside the Matadoll bar. I find the series equal parts heartwarming, comforting and bellyachingly hilarious. Here's my fave panel of the series so far:
Status: Ongoing (Currently 2 Volumes)
Where to read: Mangaplanet
2. Earth Girls: Harvest (Part 1) by Mira
Katra finds herself in the middle of a steamy romantic affair where Mihri, Kidaha and Djuna are vying for her attention.
I just love how this series is purely and simply uninhibited, unrestrained wlw joy – but with an alternate historical twist. Set in a time before our modern age (think Dr. Stone), you get to dive into the lives of the girls living in an all-women village. There's happy times, sensual times and sexy times! Also really related to Mihri's personal struggle of finding her place in the village. This story immediately made me a Mira fan and I'm excited to read Part Two once my purchase ban is up.
I also read Mira's Happy Nudist Beach (Uncensored) and South Pacific Girlfriend (Censored), all lovely yuri stories that I enjoyed so so much as well!
Status: Ongoing (Currently 2 Volumes/Parts)
Where to buy: Irodori Sakura (Mature – Uncensored)
3. Can I Buy Your Love from a Vending Machine by Haruaki Yoshii
Salaryman Ayumu has a huge crush on the strong, muscular man that puts stocks on their office's vending machine.
EASILY BECAME ONE OF MY TOP BL STORIES OF ALL TIME. I absolutely loved the awkward fumbling around that the two MCs went through for most of the first half of the volume. They're both so awkward and cute. If you love heartwarming office romance stories, this is definitely a must read!
Status: Ongoing (Currently 1 Volume)
Where to read: Futekiya (Mature – Censored)
4. Monster and the Beast by Renji
Cavo is a demon who lives his days alone and isolated even amongst his fellow demon neighbors in the forest, until he meets a middle aged man being assaulted by three men.
I've had a lot of mutuals on Twitter talk about this so I simply had to buy all the available volumes before going into a purchase ban. Definitely worth it! I love the clean and simple character designs that Renji-sensei utilizes and their narrative-writing is so poetic! Absolutely breathtaking series. It's also amazing how this is their first ever series published.
Status: Ongoing (Currently 3 Volumes)
Where to buy: Yen Press (Starting volume 3: Censored)
5. I Want to be a Wall by Honami Shirono
An asexual woman and a gay man with an unrequited love for his childhood friend get married. This is the start of their married life together.
My top manga series of 2022 so far!!! Though I will say: I know some people didn't like Yuriko's attitude towards Gakurouta in the first half of the volume, but I personally saw it as her genuinely cheering on Gakurouta's one-sided crush. I do see why people find it weird, though. I did shed a tear or three while reading the first volume. I love how this series shows that a growing platonic relationship can also be just as emotional and tender and heartwarming as a budding romance between two people. Personally, I broke down the moment Gakurouta finished telling his story and then we saw how Yuriko reacted. I think it was very impactful for me because she reacted exactly how I did whilst reading through Gakurouta's back story. That was the moment that I, as a reader, immediately felt deep emotional camaraderie to both MCs. (God, just thinking of that scene is making me tear up now TT).
Status: Ongoing (Currently 1 volume)
Where to buy: Yen Press
6. Even Though We're Adults by Takako Shimura
Elementary school teacher Ayano stops by at a bar after work and meets Akari. Sparks fly between the two women, there's just one problem – Ayano is married.
The first volume has been in my Bookwalker library for months! I honestly put off reading it because I know, I just know, it will break my heart. Now after reading the first volume, I can safely say that it hasn't… yet. But it definitely feels like the series is set up to do so much heartbreaking in the later volumes – and yes, even the readers aren't free from the heartbreak. The premise is very interesting so I'm looking forward to how the story goes in the second and succeeding volumes.
Status: Ongoing (Currently 4 Volumes)
Where to buy: Seven Seas Entertainment
7. Scent of Spring by Tsutomu
A short story collection by creator Tsutomu.
This is the first work by Tsutomu I've read and I immediately fell in love! Their art style is gorgeous and very charming (you may or may not know I have a soft spot for "squiggly" type of linework). Each story uses different romance tropes brilliantly – shop meet cute, friends-to-lovers, unrequited-to-mutual love, established relationship. I love how every story has this interconnected sense of being so endearing while still allowing space for steamy scenes when needed.
Status: Completed
Where to read: Futekiya (Censored for Smile Again and Rainbow-Colored Days)
Featured image is a snip from Mangaplanet's Sunrise Snack Bar page