Way back in the middle of July, I decided to try out bullet journaling again (for the third time) and that I'd start in August. But then August came around and I was just too occupied with wrapping things up in my previous job that I did not have the time to set it all up.
Well, now that I'm basically jobless for two weeks, I've decided to finally set it up – this time, in preparation for September – so yay!
Before that, a bit of history between me and bullet journaling
The first time I heard about bullet journaling, I thought it was interesting. The idea of a systematic way to organize your life (or certain parts of your life) and add in a touch of your own creativity to it? Brilliant. Million dollar concept. Where do I sign up.Then, the idea that it's all personalized, and therefore you must completely make the entire thing yourself, sank in.
This is too much work, I thought and gave up.
I think I only managed to make a monthly calendar that first time. I didn't even get to use it. The subsequent times I attempted bullet journaling, I had a similar pattern. A vicious cycle, if you must.
My life (as usual) was in utter chaos > desperate for a semblance of order > thinks bullet journaling is the solution > finds it laborious > gives up.
The reason I decided to try out bullet journaling again isn't really that different from the first two times I tried it out. A part of my life needs tidying up Marie Kondo-style and bullet journals are still very much a huge thing. I enjoy seeing people share their journal spreads online like Myrthe with her aesthetically pleasing Instagram page, and Lauren with her fun blog posts on all things bullet journals. These rekindled the teeny tiny interest that I had for bullet journaling. And as they say, three times the charm, so I decided to give it a third try.
Trying out bullet journaling for the third time
I thought I'd be more intentional this time around and so I did a bit of research (aka watched bullet journal videos on Youtube). One key thing that I learned from them bullet journal masters is that no one started out with Pinterest-worthy spreads. And you might notice, this is me relearning the whole "nobody started out perfect" thing all over again. An especially great tip I got from AmandaRachLee is to know your purpose for starting out a bullet journal. In my case, it's to KonMari the heck out of my creative life.
Which is why I only have four spreads on my September bullet journal: a cover, the monthly calendar (+ goals for the month), art habit tracker, and a special "books/mangas/anime I watched/read" spread.
My September bullet journal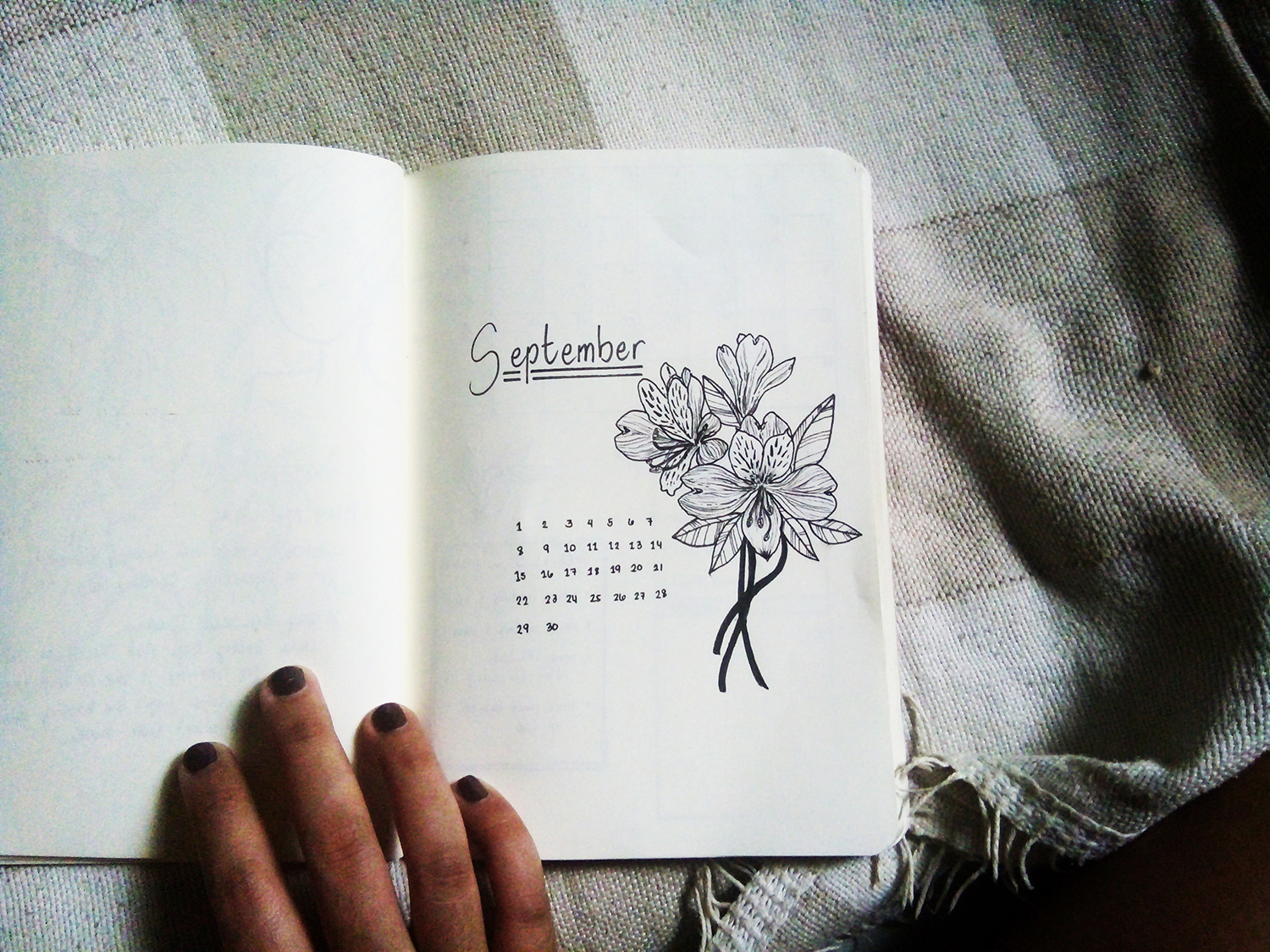 The cover is, essentially, um… useless. I only made it because I'm using an old journal already half-filled with sketches and doodles. (I am not buying a new journal for this.) And also, it's for funsies! I like the botanical lineart I got going and it's also the general theme for the rest of the spreads.
Monthly Calendar
The monthly calendar is there to help me remember commitments I pre-booked mostly. I find that the older I get, the more my memory is becoming that of a goldfish. (And I'm only in my early twenties *llama cries*)
I also have a box underneath where I listed my goals for the month. I wrote down some personal stuff I do not wish to share at the moment so you'll just have to settle on my prettily painted hands. But yes, one of my goals is to finish reading ONE BOOK. As you can see, my bar for progress right now is so low. But that's okay – progress is progress. <3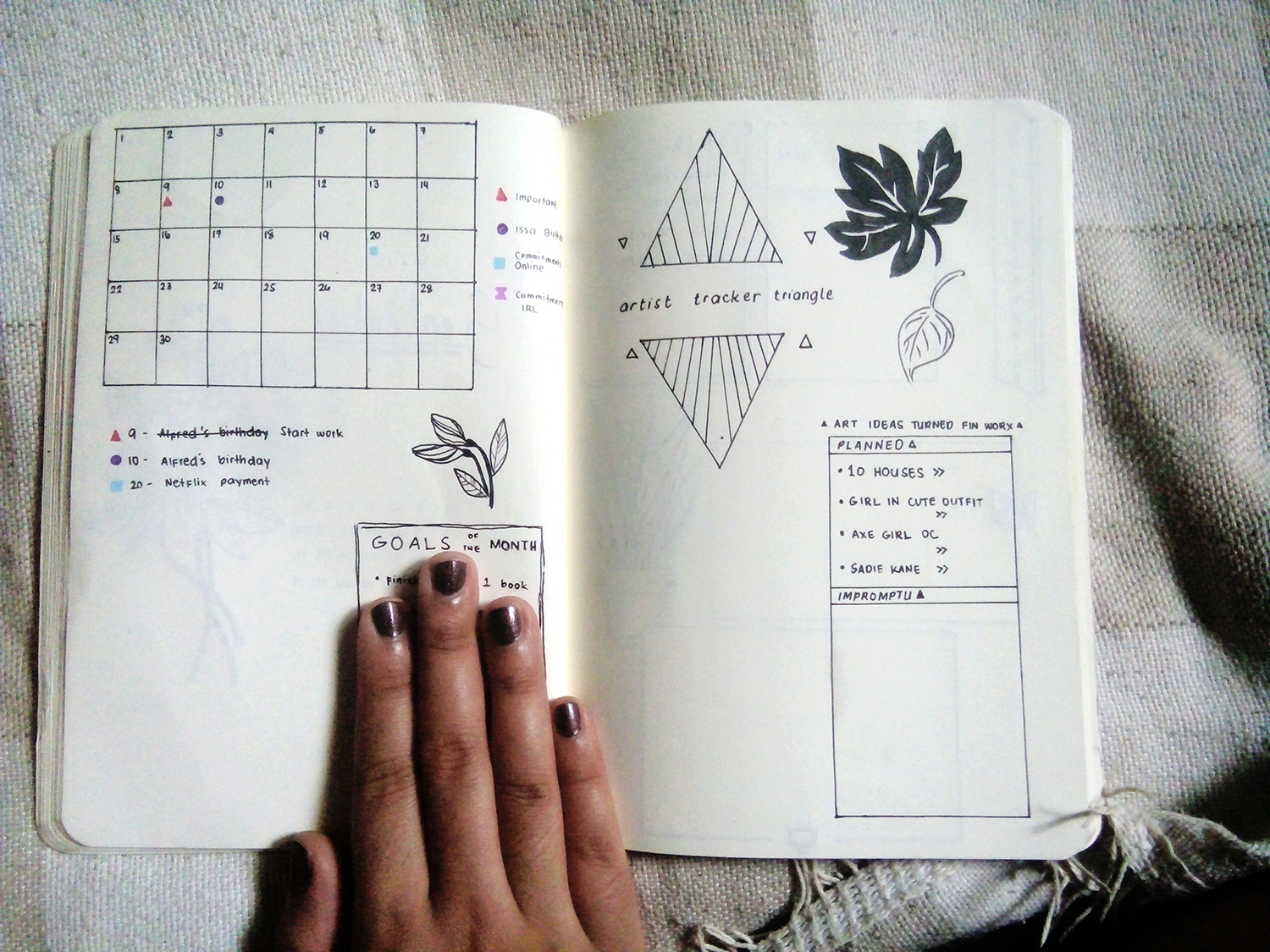 Art Habit Tracker
The art habit tracker is really the main spread, I guess. I'll be using it to track how many times I drew during the month and which of my many art ideas became an illustration on that month. I have tons of spaces left which I'll probably fill in with additional stuff, if I so deem fit. But other than that, it's really just me building and tracking my art habit.
What I'm Reading & Watching
Finally, there's the books/manga/anime page that's a more self-indulgent section. I've been reading tons of manga and Webtoon comics lately and just having a physical place where I list brief thoughts on them would be great.
Also, I love the quote on the next page because I know I will have moments where I'll be lazy and won't want to check in on my journal.
Overall, some people may find this too simple but I'm good with that. I don't want to overwhelm myself (again) so a simple bullet journal for this month is good enough for me.
Do you have a bullet journal? How long have you been doing it? In what other ways do you KonMari your life?