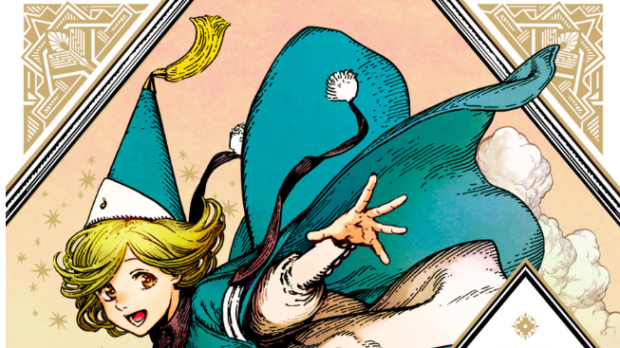 Like with Valentine's Day, I don't really have much care for Halloween as an occasion. But when I think of Halloween, I think of witches and cozy things. And if you've known me for a while, you will know that, for at least the past couple years now, I have a deep fascination with any kind of witch-themed media. Be it comics, movies, or games. Perhaps it's because of how I fondly associate them with cottagecore and urban fantasy. Also, the witch-themed curated playlists on Youtube and Spotify are just the best for drawing or writing.
And so I thought, why not recommend some of my favorite cozy witch-related comics?
Note: Status and links below are for the official English licenses only. Simply because most of anyone who stumbles upon this blog are from Anglophone spaces. If you'd like to support the creator and purchase the original Japanese works and don't know how to do that, feel free to comment down or contact me. I'm happy to guide you. 🙂 Please please read these works (and all comics!) on official sites and support them and their creators legally!
1. Daily Report about my Witch Senpai by Maka Mochida
Just your typical office romance story about a tired and overwhelmed office worker, except he has his kind senior who is ready to lend a hand… and is also a witch!
This is an overall short but sweet story and the art is absolutely CUTE!! There's of course the relatable struggles of office life that you'd see in stories set as such, but the little dash of magical element makes this a fun read for me. I also love how, even though the overall vibe of the series leans more on cutesy and fluff, it still does not shy away in portraying themes about outside expectations and the burden of "having an advantage". I haven't read the second (and final, I think?) volume yet as it was released during my purchase ban (hnnnggg) but I can't wait to dive into it soon!
Status: Completed (2 Volumes)
Where to buy: Seven Seas Entertainment
2. 5 Seconds Before a Witch Falls in Love by Zeniko Sumiya
The mischievous witch of the forest has probably taken her teasing too far when she accidentally turns her strong witch hunter nemesis into a cat.
This is a girls' love (GL) anthology volume that includes 2 additional stories on top of the above witch story. Sumiya-sensei has a knack for drawing lively expressions with her characters as well as these wonderfully dynamic action panels. Last but not the least, whenever I see Hachi the pharmacist's store, I'm just– I want to go to there.
Status: Completed (1 Volume)
Where to buy: Seven Seas Entertainment
3. Wait Where the Shooting Star Falls by Mr. General Store
In a world where fallen shooting stars take the form of witches and are bound to a cat until they both die, this is the story of a cat left behind by its witch companion and a witch with no cat.
THIS SERIES HAS MY WHOLE HEART. The worldbuilding is fantastic, the themes of grief, religion and mob psychology is so fucking compelling, and the characters? Every single one is incredibly written. And I haven't even talked about the art: It is GORGEOUS. Seriously, I also read another series by Mr General Store and they're really great with creating fantastical, whimsical type of atmosphere. I need more people to read this and hype it up so we can also get an official English hardback y'all! The Korean hardbacks are so glorious, I want one (sobs).
Status: Ongoing (Season 2)
Where to Read: Tapas, first 4 episodes are FREE to read!
4. Morgana and Oz by Miyuli
Vampires and witches have been on opposing sides for hundreds of years. What happens when a struggling witch meets an angsty vampire?
I've loved Miyuli's art and their anatomy drawing tips on social media for a long time so I was super stoked to see them release this series! And it's right up my alley, too!! The art is gorgeous and comforting and both Morgana and Oz are both like my children now. There's something great about stories between two people in differing groups a la Romeo and Juliet as long as it doesn't end up in tragedy. I especially love that we're slowly uncovering the truth to what happened between the witches and vampires.
Status: Ongoing (Season 1)
Where to Read: Webtoon, free to read!!!
5. Flying Witch by Chihiro Ishizuka
A novice witch and her cat moves in with her distant relatives in the rural countryside to complete her training and finally becomes a full fledged witch.
Personally, nothing evokes comfort more than a slice of life iyashikei (translating to "healing") stories. There's no plot or high life-risking stakes; just relaxing and occasionally hilarious daily lives of the many characters you'll come across. Flying Witch is the perfect example for this. I haven't fully read all the volumes available for it yet but I can always reach for the series when I need something cozy and undemanding. Especially in this chilly, rainy weather we're having now.
Status: Ongoing (10 Volumes)
Where to Read: I read it on Manga Planet, where chapter 1 is free to read! You can also check out Kodansha for where else to read it. It's available in a lot of manga subscription platforms!
6. Witch Hat Atelier by Shirahama Kamome
Everyone knows magicians are born, not made. And so for magic-loving Coco who was not born with a gift for magic, there's not much else she can do… until a mysterious travelling magician visits her village.
I CANNOT EVEN BEGIN TO TELL YOU HOW MUCH THIS SERIES MEANS TO ME. I literally have a whole Twitter Moments just for this series. It is such an amazing piece of literature. I'm still not over that one time I came across someone saying it's a mediocre fantasy story like,,, How can someone say with their whole ass chest something so embarrassingly wrong. Not only is the worldbuilding absolutely rich, the characters – both the "good" guys and "bad" guys – are super compelling, and also the secondary theme of education and the need for learning to be inclusive to all is incredibly thoughtful and compassionate. I need this series to be part of kid's lit classics and someday become as beloved as series like PJO and HP. I'm so so excited for the anime adaptation!
Status: Ongoing (9 Volumes)
Where to buy: Kodansha; the first three chapters are also available to read for FREE on Morning Two's website. And it looks like they update every month!!
Featured image is a snip from Witch Hat Atelier first volume cover.