BookWalker links below are affiliate links which means I receive 3% coin back if you purchase through these links.
Personally have never celebrated Valentine's Day free-willingly. The last time I even participated in a Valentine's Day event was when my entire class created a haunted house for the school-wide activity. That was almost nine years ago.
…
Fuck, realizing it's been almost a decade since high school is not how I want to start this draft. I need a minute.
Now that I've [somewhat] recovered, this year's V-Day is slightly interesting in that I am participating in some form of it out of sheer self-indulgence. It's also a sort of protest against all the big wig publications choosing this day of all days to be extra condescending towards the romance genre. But I digress.
If you do enjoy romance stories like myself and are looking for some new comics to get into, then get yourself cozy, make a cup of your favorite warm beverage and let's go.
But first, a couple notes:
A lot of the titles below are romance stories, first and foremost. There are, however, stories that may or may not be tagged as a "romance story" but do have romance as a very heavy secondary element to them. I'm adding these titles anyway because I enjoy them and believe someone else will enjoy them too. I need no pedants in this space.
Secondly, please know that I tried – I really did – to put on here as much of my favorite series with my favorite tropes ever but seeing as I literally came up with this blog post idea three days ago, it's just not going to be feasible. I am thinking of making this a yearly thing. Probably. Most likely… but who knows. I do tend to drop projects quite frequently so I'm not making any promises. For today though, we'll be going through a lot of classic romance tropes and some very specific personal faves.
Ooh! One last thing (I know I know, so many notes Kate wth) anything with (*) is a completed series if you want to binge the entire series or just don't want to commit to an ongoing one.
Again, this is very impulsively made and more self-indulgent than anything. Literally just made this as a perfect excuse to rec some romance stories amidst V-Day.
Workplace
An absolute classic. Needs no further explanation.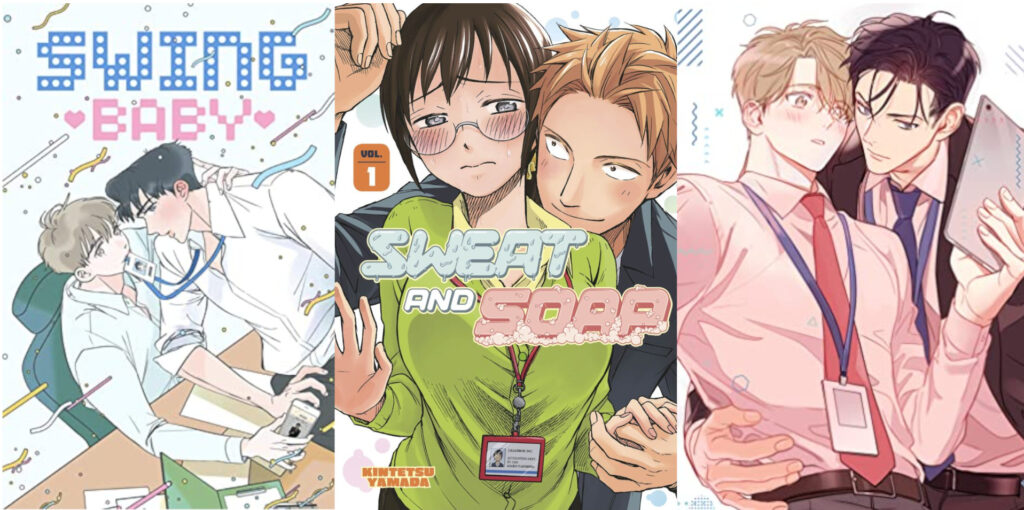 Swing Baby* by mudan – A very cute office romance between Baby, who can't seem to get promoted at work, and his new boss, Johnson. Perfect combination of sweet, sensual and sexy! One of my favorite comics of last year – I was so sad when it ended just a couple months back. TT
Rated: Mostly nonexplicit but with a few explicit scenes near the end
Read it on Tapas.

Sweat and Soap* by Kintetsu Yamada – EASILY ONE OF MY TOP THREE FAVORITE MANGA SERIES OF ALL TIME. Another series that perfectly balances sweet, sensual and sexy. It's about an accountant who sweats a lot (and is super conscious about it) and is a huge fan of her company's soap products and a project developer with a high sense of smell, who also happens to make some of her favorite soaps ever. The premise is very niche but it's absolutely heartfelt. I'm a proud Asako kinnie right here.
Rated: Nonexplicit but with very steamy sex scenes
Buy it on BookWalker Global (or check its Kodansha page for where else to buy a copy.)
Also… if you want the manga creator's doujinshi (self-published work) with explicit scenes, check out DLsite. Hit me up even, I'll send you a link 😉

The New Recruit* by Moscareto (story) and Zec (art) – I just got into this series exactly a month ago and it's easily one of my faves. Power x Puppy dynamic. If you love an office romance with a little more emphasis on the "office" aspect (eg preparing reports, office politics etc), this is it.
Rated: Explicit
If you want something a bit more censored and is already the entire completed series, read it on Manta. The whole series is also free to read on there until February 24!
If you want super explicit sex scenes (like they literally added a couple more chapters for the lightsabers <3), read it on Lezhin. Not yet completed on there though.
High School
I guess for novels, this would be the equivalent of YA contemporary? Like how workplace romance is set in the office, this is set in high school. But not just that, I also only listed stories that I don't think would work out the same way had it been set elsewhere or even in college/university.
In the Clear Moonlit Dusk by Mika Yamamori (shoujo queen) – A princely freshman who's actually a girl bumps into her second year senior who's also the prince of their school. Widespread gorgeousness. Mika Yamamori is the queen of beautiful characters amongst shoujo mangaka and that's saying something since the shoujo genre is rife with beautiful characters, both men, women and nonbinary alike. The FL is inexperienced but earnest and the ML is very straightforward.
Rated: Sweet (you will die of sugar-overdose)
Buy on Kodansha (the third volume just came out recently!!) BookWalker also currently has the first two volumes on Coin Boost, which means for every purchase, you'll get a certain percent coin back that you can use for future purchase on the site. Check it here!

Tsuredure Children* by Toshiya Wakabayashi – Every high school romance manga trope ever in a hilarious 4-koma collection of multiple characters going through young love. Think of a classic ship dynamic and I promise you there's bound to be one present in this series. My personal fave is the student body president and a tsundere delinquent.
Rated: Sweet
Read on Azuki or INKR Comics. Or buy the entire digital volumes elsewhere on Kodansha.

Sasaki and Miyano by Shou Harusono – THEY ARE ICONS. THEY ARE LEGENDS. THEY ARE THE MOMENT. A closeted BL fanboy and his senior who's eager to learn about his junior's hobby – or even more (SCREEEEEECH). Can you believe one of the top anime of this season is a BL? Yes believe it. They are absolute heartwarming and the way Harusono-sensei wonderfully portrays longing and introspection? (Slams credit card)
Rated: Sugar overdose sweet
Buy it on Yen Press.
Friends to Lovers
No because some of the BEST angst/yearning stories out there are friends to lovers. I mean like, how can you yearn for the enemy?
Seriously, if you know any stories (novel, TV, comics etc), give me a call. I'm very open and wanna check it out.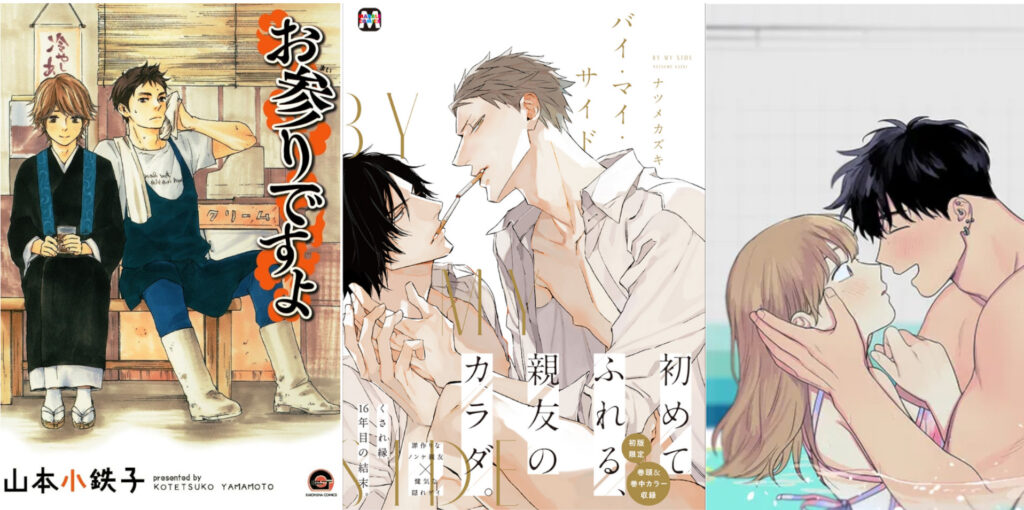 Hopelessly Devoted by Kotetsuko Yamamoto – PLEASE PLEASE PLEASE READ THIS. It's a perfect weekend read and very lighthearted. There are two main couples – one has the soft anxious mess/reliable stoic ship dynamic and the other has lovable dumbass/classic tsundere dynamic. I need futekiya to release the last 2 volumes but also no because will my heart ever be ready? (Correct answer is never.)
Rated: Mostly sweet and sensual, progresses into explicit in the later volumes (about volume 5 I think?)
Read on Futekiya.
By My Side* by Kazuki Natsume – The way this story BROKE me in five chapters. And this is still my go-to read of Natsume-sensei, especially after how their other series, MODS, left me in pieces recently. The perfect combination of angst and heartfelt. (God just even thinking about this series has my heart WRENCHING.) Read it. There are only like 5 chapters, you can do it. (Or not, but it's still worth it.)
Rated: Explicit with a possible dash of turning you into a sobbing mess
Read on Futekiya.
My Friend's Hidden Charm by Pyapya – Wanna bet what the hidden charm is? 😉 This is about two childhood friends who grew apart and rekindled their friendship when they bumped into each other in university. Super cute despite sex being at the forefront of this story. The MLC is a cinnamon roll and the FL is the more assertive one.
Rated: Explicit (like right at the second episode.)
Read on Lezhin. The Introduction chapter is free on Lezhin as well.
Slice of Life
I know Slice of Life is another genre in manga/anime itself and is definitely not mutually exclusive with romance. But this type of stories to me are the kind where there's no structured plot really (hence, the SoL aspect); the main focus of the series is simply the progression of the two main character's relationship and every chapter is just us taking a peek into their daily lives. AND THAT'S WHY IT'S SO GOOD.
A Side Character's Love Story by Akane Tamura – One of my favorite ongoing series ever! There's literally no miscommunication conflict at all. Both main characters take the time to clear up any misunderstanding or voice out their worries or concerns. It's one of the most wholesome, realistic romance out there – and it's so underrated!
Rated: Sugar overdose sweet
Read it on Tapas. Or check out BookWalker if you prefer per volumes (four to five chapters) purchases than the per-chapter on Tapas.

Blue Sky Complex by Kei Ichikawa – A lot of my moots on twitter are fans of this series even before it got its official EN license. It's a beautiful love story about two guys who happened to get roped into library duty and gradually became friends then lovers. Straight A student and (unintentional sksksks) delinquent ship dynamic. The progression of their relationship flows so naturally and I love how Ichikawa-sensei includes their relationship with their and each other's family. Ugh I love them so much.
Rated: Sensual with a few censored explicit scenes peppered in between (so far in Volume 4 btw)
Read on Futekiya.
Pan Focus* by Rako – This is the very definition of a slow romance but more than that, it's about two close high school friends who grew apart and rekindled again when they're adults, and finally addressing why exactly they grew apart. It's a heartwarming sapphic romance between a tall sweetheart manager and a feisty frank creative. It's not office romance, though, as they both work in different fields. Outside the main couple, we also get a glimpse of a secondary couple's relationship and I love how both couples show the different side to what a relationship is and can be. ALSO the way food and eating together is such a vital component of the series??? *slams credit card*
Rated: Explicit
Read it on Tapas. You can also read the mature version on Tapas.
Age Gap
No judgements here. If you don't like it, feel free to scroll.
Promise Cinderella by Oreco Tachibana – Please, this is one of my current ongoing faves and is bound to be one of my all-time faves (once it's finished which is soon *sobs*). I talk about this on my twitter numerous times but it's definitely a must-read if you love the classic shoujo romance. I see it like a grownup version of Ouran. The older FL is like all the good things about Misaki from Maid-sama. The younger ML is like Tora from Maid-sama and Bakugou combined lolol. Fire + Fire in this dynamic for sure.
Rated: Nonexplicit but contains mature themes outside sex. (TW for violence in some volumes.)
Read it on Comikey (the first 5 chapters are free to read!!) or, if you love print copies and are in SEA, check out Shogakukan Asia's page on where to buy them.
I Didn't Mean to Fall in Love* by Minta Suzumaru – Older top x younger bottom. The older ML is more innocent and inexperienced while the younger ML is so doting and considerate. Another series where it perfectly balances the sweet, sensual and sexy. Also Suzumaru-sensei is a personal auto-read on futekiya because her art is always TOP NOTCH, never disappoints.
Rated: Explicit + sugar overdose sweet
Read it on Futekiya.
Black Sesame Salt and Custard Pudding* by Yufuko Suzuki – PLEASE I LOVE THIS MANGA SO MUCH. Silver fox daddy and impulsive construction worker FL??? Also the older ML is the one who does the household chores more. Let me repeat that again: DOMESTIC DILF. Also lest I forget to mention, marriage of convenience. (We're really getting to specific niche tropes here, huh.)
Rated: Mostly nonexplicit but there are some steamy scenes
Read it on Renta. I also purchased the limited edition three-volume on BookWalker.
Food/Cooking
If you know me well, you know I love anything with food.
Gourmet Hound* by Leehama – Easily top five Webtoon comic for me. About a girl with a high sense of taste and smell suddenly realizing from one dish that her favorite restaurant changed chef. Also, with the recent resurfacing of the M@rian@ Z@p@+a conundrum, if you want a beautiful Filipino food rep, this is it.
Rated: Sweet
Read it on Webtoon.
焼いてるふたり (Yaiteru Futari) by Shiori Hanatsuka – This is the only title in this whole list that is not licensed in English (yet *prays intensely to all gods*). I have the first 3 volumes currently and I don't really care how slow I read through it, because I have to read with the aid of translation apps like Papago, but it's becoming a fast favorite! ML is a 30-year-old grill otaku (aka he's obsessed with anything grilled) and FL is a stoic younger woman he met on a blind date. They get married after the first few chapters and the rest of the story is just them bonding further over food. I repeat: THE BEST PREMISE EVER.
Rated: Sugar overdose sweet
Buy it on BookWalker JP. It's also serialized in Comic Days.
Our Dining Table* by Ori Mita – One of the stories I enjoyed over the holidays. It's a cozy and wholesome story about love and healing through food. There's a toddler who unintentionally becomes a matchmaker and there's also an unrequited love becoming requited element to the story.
Rated: Sugar overdose sweet
Buy it on BookWalker Global. Or check its page on Seven Seas for other options.
Human-Nonhuman Relationship
Buckle up, babez. These come with precautions because they're HOT. Also as per above heading, this is an acquired taste. If you don't like it, feel free to skip.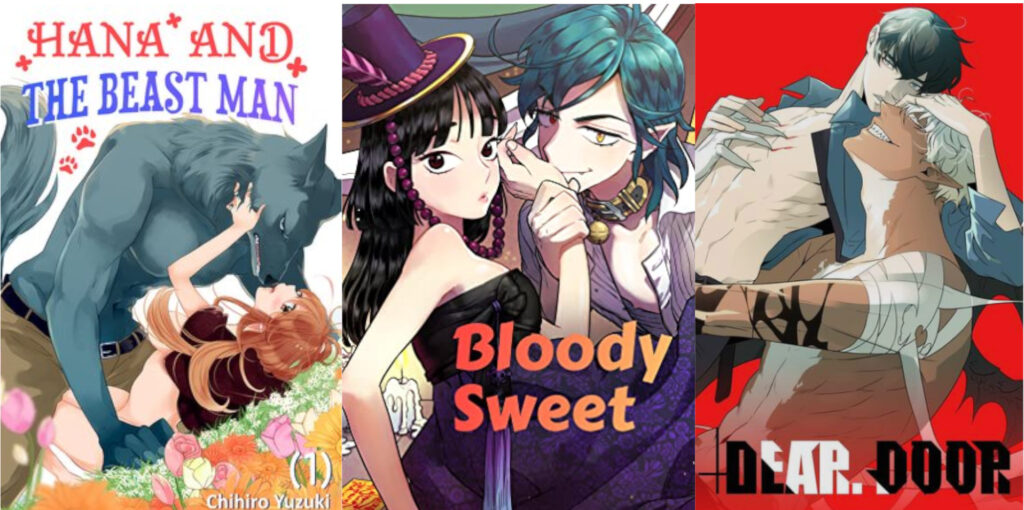 Hana and the Beast Man* by Chihiro Yuzuki – The trap, I found about beastmen type stories especially those that are also romance stories, is the likelihood of it becoming mere kink-specific stories. Not that there's anything wrong with that, of course. I love some good old furry without plot occasionally. But it's also why good solid writing in this trope like this series easily stands out to me. Teacher x Security Guard. Solid romance and the steamy scenes are *fans self*
Rated: Explicit
Read on Renta.
Bloody Sweet* by Lee Narae – Daughter of a shaman encounters an ancient vampire that becomes her servant. Chaos (literally) ensues in the Shin household. I love this series SO MUCH. Naerim's character development and what she's gone through throughout the 85 episodes is both so heartbreaking and endearing to watch.
Rated: Bloody Sweet (ehehe)
Read it on Manta but you can literally find it everywhere! It's also on Tappytoon, INKR, Lezhin and POCKET Comics.

Dear. Door by Pluto – Policeman Kyungjoon is on a serious investigation around a mysterious cult and stumbles upon the supernatural. He becomes Cain, a demon overlord's "door" to Hell. Oh boy what else to say. It's got action, it's got comedy and it's got sexy times! Episodes 49-53 though? Top-tier conclusion to an arc ever.
Rated: Explicit
Read it on Manta. But you can also read it on Lezhin, Tappytoons and Tapas. If you want uncensored (because everyone who worked in this series are literal god-sent), the mature version is on Tapas. 😉
All images in this post are NOT owned by me. They are owned by the respective creators and publishers.
Featured image is a snip from Kodansha's Sweat and Soap page.